How to Dissuade Your Partner From Watching Porn?
Is your partner preferring porn over making things wild in reality It's time to spice things up a little to stop your partner from watching porn.
Is your partner watching too much porn? Is this impacting things in bed with them? Well, watching porn can be interesting, but too much of it might have an impact on your sex life. Especially, if one partner is addicted to it. So, what can you do if you don't want your partner to watch porn? Let's find out!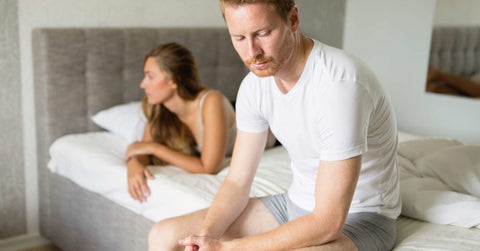 Communicate Openly - Couples often fail to communicate properly when it comes to discussing sex. Without discussing the moves and needs of both partners, a good sex session is impossible. Of course, you can't explain everything but as a couple, you must go ahead naturally in the act. Moreover, you must understand the pleasure of both partners' matters. If you're satisfied, communicate it to your partner. Besides, if you know that your partner is watching too much porn, there is no better way than to directly communicate about it to your partner. It can actually resolve a lot of issues.
Understand Your Partners' Needs- It happens a lot among couples that either of them doesn't understand their spouse's bodily needs. Hence, it could so happen that one person's needs are being fulfilled than the other. Sex is an act between partners, hence, if one is not satisfied, it seems unfinished. So, many unsatisfied partners resort to porn. Besides, some couples fail to drive each other to their climaxes or orgasm. And, if such things happen, it is a huge deal-breaker and a turn-off. The worst part here is that porn can create unrealistic expectations in your partner, which can affect your relationship in the longer run. So, watching porn isn't helpful for any healthy relationship by any chance.
The best thing to do as mentioned is to communicate and understand each other's needs and wants and most importantly don't see porn as the goal. This is an act between you and your partner, it's personal and only you would know. Besides, there are sex toys to spice up things, so try them out instead.
Spice Up Bedroom Sessions with Sex Toys- If your partner is avoiding sex or seems disinterested, you must find something new to entice him/her. A little wooing, a few flirty texts, and some naughty signals can surely change your partners' mood immediately. Moreover, the real fun is to use sex toys. Sex toys can make you and your partner go wild and end up enjoying a steam sex session. We are sure that after such wild and steamy sex, your partner will surely forget porn. Well, your partner might at times insist you watch porn with him/her. Just remember watching porn together might not be a great idea. It builds unrealistic expectations in sexual intimacy. Instead, you can use sex toys such as a clitoral vibrator or a dildo vibrator, to have a fantastic time together.
Learn What Turns Your Partner On- Sometimes you must know what other than sex can turn your partner on. Be it reading erotica or a striptease, porn and sex aren't the only things that can turn someone on. Pleasuring your partner with more than sex is important for complete fulfillment. You can also plan out some romantic dinner or getaway to surprise and please your partner. Maybe sexy lingerie will also do the deed. So make sure to spice up things with your partner and you might see that watching porn is something no longer will happen. If it does continue, then you can always visit a therapist.  
Porn Blocker- This is the last step you can take to stop your partner from watching porn. Downloading a porn blocker can actually help you stop your partner from watching porn. Well, you can't just block porn sites only, you have to make sure your partner doesn't switch back to watching it either. Simultaneously, you can tempt him/her with some surprising intimate moves. This might take some time too but you must have patience, of course, no habit changes in a day. Just remember the more open to exploring you and your partner are, the more stable your relationship will be. However, in seducing your partner, don't end up objectifying yourself as a substitute for porn. If such a thing happens, your partner might not completely quit watching porn.
Watching porn is not uncommon behavior. And, in the process of stopping your partner from watching porn, don't indulge yourself in the same. Sexual stimulation via media, at times, tends to have a similar effect on men like porn. This will make it harder for your partner to avoid porn. So, sexologists believe as a couple, one should never indulge in watching porn together. Opting for romance instead is better. Quitting porn is healthy but adding more intimacy to your relationship can actually keep your partner away. Openly discussing porn, sexual fantasies and desires is a great way to boost your physical intimacy. Besides, you must also show your partner non-sexual forms of intimacy like cuddling or holding hands. This adds more spark and love to your relationship.
Check out some of the best sex toys that you can gift your partner this holiday season to add some spark to your relationship.